Description
This workstation cubicle configuration provides longer walls on the side for increased privacy and a large surface area for all your work needs. The 53'' high cubicle walls are tall enough to provide privacy while seated but short enough to provide face-to-face communication while standing. Options such as electrical distribution, various forms of storage and shelving, task lights, tack boards, keyboard trays and center drawers are available on this cubicle set-up.
Interior Cubicle Dimensions: 6' x 8'
Exterior Cubicle Dimensions: 16'6'' D x 25'5'' W x 53'' H
Privacy Rating: Medium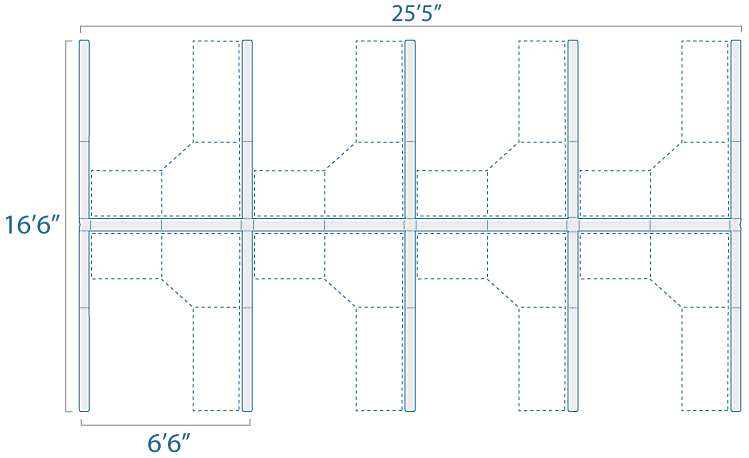 Product Options Price Breakdown
Not sure what a certain option is? Refer to our Cubicles 101 section which details each part/option of our cubicles.
| Electrical Options | Cost |
| --- | --- |
| Base Feed | $120 |
| Ceiling Feed | $150 |
| Power Pole Kit 12′ | $120 |
| Storage | Cost |
| --- | --- |
| 1) 21″ Box/Box/File Unit | $171.05 x 8 (cubes) = $1,368.40     |
| (1) 21″ File/File Unit | $171.05 x 8 (cubes) =  $1,368.40  |
| Shelving | Cost |
| --- | --- |
| Half-Height Shelf (no light) |    $61.05 |
| | |
| Full-Height Shelf (no light) |    $68.75 |
| | |
| Binder Bin (no light) |    $134.75 |
| | |
| LED 20″ Task Light |    $85 |
| | |
| Other Options | Cost |
| --- | --- |
| Keyboard Tray | $157.85 |
| Center Drawer | $63 |
| Tack Boards | $62.15 |